50 Inches of Rain
September 01, 2017
Hurricane Harvey, now downgraded to tropical depression Harvey, dumped 50 inches of rain on parts of the Texas coast this week. This epic storm has wreaked havoc on a large swath of the southwest and left destruction and devastation in its wake. When a large low pressure system moving in from the sea runs smack dab into a high pressure system over the coast, it's a recipe for a natural disaster. Counter-clockwise circulating air vacuums up moisture from the Gulf, and all that warm, moist air rising up must eventually come down. And come down it did. "Harvey came inland about 200 miles south of Houston, and the outer rain bands pushed into Houston on Saturday. . . Houston lies a few dozen feet above sea level, and during normal rainfall residential yards drain into streets, streets drain into bayous, and bayous carry water into Galveston Bay and the Gulf of Mexico.
But this was not normal rainfall; it was extreme tropical rainfall. Meteorologists measure rainfall rates in inches per hour at a given location. A rainfall rate of 0.5 inches per hour is heavy, while anything above 2.0 inches per hour is intense (you'd probably stop your car on a highway, pull over, and wait out the passing storm). [In the Houston area], from 11pm to 1am that night, 10.6 inches of rain fell, about as much rainfall as New York City gets from October through December. That happened in two hours. Ars Technica
Harvey is estimated to be the biggest flood-producing storm in US History. Ars Technica. Harvey dumped an average of 24 inches of rain over a 20,000 square mile area in a few days, and 50 inches of rain in some areas, including parts of Houston. This unbelievable deluge was made more devastating by the fact that it came down, not in a remote area, but on the fourth largest city in the US. To put "50 inches of rain" in perspective, the average annual rainfall in Seattle is 37.18 inches. 37.18 inches per year. Weather.com
More rain fell on Houston in a few days than falls on Seattle in a year.
In the midst of this unfathomable devastation, however, there have been acts of tremendous courage, generosity, altruism, and, indeed, heroism. Friends, neighbors, first responders, military personnel, and total strangers have come together, provided shelter, and even risked their lives to save those in need.

By CHRIS CIRILLO and DAPHNE RUSTOW. Photo by David J. Phillip/Associated Press
Texans being rescued on airboats. . .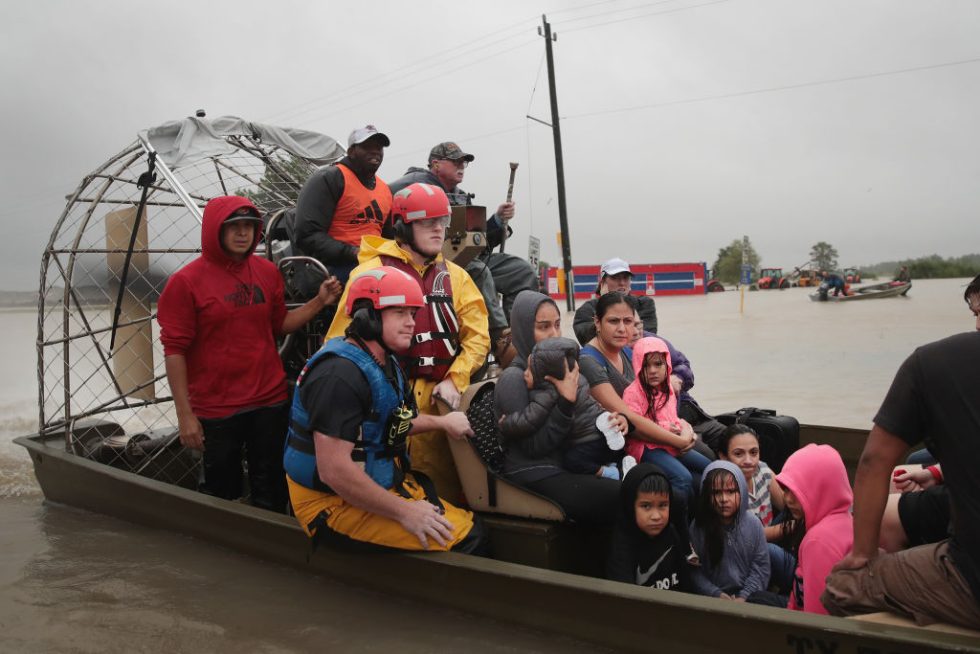 Scott Olson/Getty Images
On CAT construction vehicles ...

Joe Raedle/ Getty Images
On paddle boards . . .
On foot . . .
Even on air mattress . . .
WATCH: Family floating on an air mattress found @CourtneyABC13's rescue boat by the Barker Reservoir #HoustonFlood: https://t.co/IgIDrv7GTe pic.twitter.com/vAXeHeEfHV

— ABC13 Houston (@abc13houston) August 28, 2017
And thousands of flood victims have been rescued by air . . .
#USCG crews continue working to rescue victims of the aftermath of #HurricaneHarvey. #Harvey pic.twitter.com/ywcdLoh7GP

— U.S. Coast Guard (@USCG) August 27, 2017
Thanks to the brave men and women of the US Coast Guard!

There are so many more uplifting stories, like these three brothers from San Antonio who wanted to help, so they bought a 5-ton "high water" truck on Craigslist and drove through the flood to help rescue stranded flood victims in Houston. PBS Newshour
And the story about the "Cajun Navy," volunteers from Baton Rouge, LA, who just wanted to help.
---
Here are some ways that you can help:
Donations to the Red Cross for those affected by Harvey can be made onlineor text HARVEY to 90999.
Donations to the Salvation Army can be made online.
Catholic Charities is accepting donations online or text CCUSADISASTER to 71777 to donate.
If you'd like to help feed people in the region, websites for the Houston Food Bank, the Galveston County Food Bank and the Corpus Christi Food Bank take online donations. Read more.
And don't forget to keep the people of Beaumont, TX, in your thoughts and prayers, as they are without any clean water after this devastating flood. PBS Newshour
Many thanks to the Coast Guard, the National Guard, the local law enforcement, the first responders from all around the country, the volunteers, and all of the wonderful people who saw those in need and came to help.